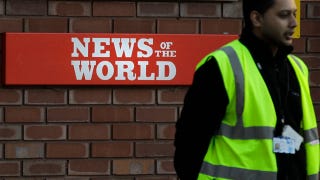 The News of the World phone hacking scandal spun out of control this week with the revelation that the paper tampered with a murdered girl's voicemail. Today Rupert Murdoch decided the only way to salvage the situation was to shut down the entire paper.
The paper's roughly 200 employees thought News International's chief executive Rebekah Brooks was announcing her retirement when she called a meeting this afternoon, but instead she said Sunday's edition would be the 168-year-old paper's last.
Employees then gathered at a local bar where the paper was running an open tab, but they weren't placated by the free beer. From the New York Times:
According to two reporters who were present, the staff was also told that Ms. Brooks had offered her resignation twice this week, as the scandal grew, but that it had been turned down. One employee said, wryly, according to the accounts, "We accept."
Earlier: Tabloid Paper Reaches New Low, Hacks Murdered Girl's Phone