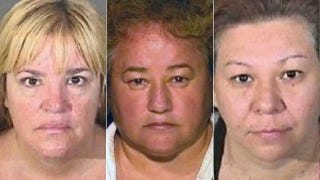 Nothing like financial fraud to feel perfectly apropos of the time. Even more so: When it's committed by mothers.
Maricela Barajas, 41, Juliana Celeste Menefee, 50, and Eva Perez, 51, were all in the PTA at an elementary school in the town of Diamond Bar. Now they've been charged with 22 felony counts each of grand theft of personal property and securities fraud and could go to prison for a dozen years.
Investigators say the women used the school as their recruiting grounds, bilking not particularly wealthy people into giving them their life savings or taking out second mortgages to "invest." They claimed they had an in with a local dairy that had an exclusive contract at Disney facilities. As is often the case in these schemes, the women promised a massive return on the investments, which crumbled once people started asking for payments.
One commenter wrote to the Diamond Bar Patch of one of the accused,
They tried to get my wife to invest in the beginning of this scam and I said no. I looked like a jerk to many of the people that knew and invested with Eva. I stood my ground and told my wife to have nothing to do with them and in time that they will be caught if they are doing wrong. It just didn't make sense that you can double your money in such a short time. These females used God and gifts to befriend you.
A lethal combination, clearly.
PTA Moms Who Allegedly Ran Ponzi Scheme Charged With Multiple Felonies [LAT]
Readers React To Ponzi Scheme Allegations [Patch]