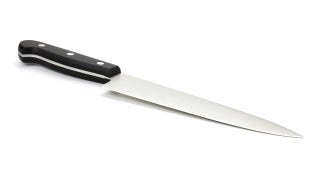 Kaileen Barney of Michigan has been accused of threatening her boyfriend with an 8-inch knife and smashing his iPhone because he wouldn't stop using Facebook. Police found Barney drunk and locked out of the apartment she and her boyfriend share. She told police they were fighting because she was upset about how much time he spends using Facebook, and jealous because he contacted a former girlfriend through the site.
During the argument, Barney entered their bedroom holding a butcher's knife. "She told her boyfriend, 'I'm a chef and I know how to use this,'" said an officer. "She made seven or eight stabbing motions with the knife and came within inches" of hitting the boyfriend. Barney has been charged with felony assault and could serve four years in prison.
Image via Evgeny Karandaev/Shutterstock.