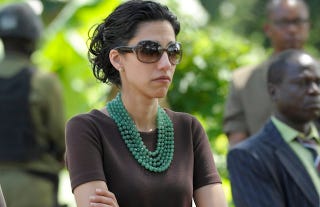 The New York Post, citing unnamed sources, says Huma Abedin, wife of Anthony Weiner, is taking time off from work while her husband seeks unspecified treatment. During which we hope she doesn't get hounded by the Post and sundry paparazzi.
Abedin has remained quiet throughout the entire drama, which, if you'll recall, featured her husband sending an accidentally public tweet of his clothed genitalia, lying about it, being caught sending Facebook photos of his nude genitalia, and then being convinced to resign. No one would disagree that Abedin, who is pregnant, has earned her vacation.
The Post is vague — they quote a source saying, "She is definitely taking time off away from her husband and chilling. And he's going some place for at least a couple of weeks." Another unnamed "House Democrat" describes Weiner's forthcoming treatment as "something a bit intense."