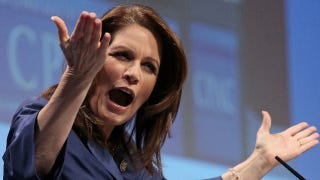 While speaking at an event held by Republican Liberty Caucus on Saturday, Michele Bachmann told her personal version of a famous historical account, that isn't necessarily right or wrong — because it's her opinion of historical facts.
"What I love about New Hampshire and what we have in common is our extreme love for liberty," she said, according to Politico. "You're the state where the shot was heard around the world in Lexington and Concord. And you put a marker in the ground and paid with the blood of your ancestors the very first price that had to be paid to make this the most magnificent nation that has ever arisen in the annals of man in 5,000 years of recorded history."
However, Scott Conroy at Real Clear Politics (and anyone who ever attended a social studies class) notes a glitch in what the Tea Party heroine had to say:
In fact, the 1775 Battles of Lexington and Concord that marked the first military engagements of the American Revolution took place in Massachusetts. But Bachmann did not correct her error when she referenced the battles again later in her speech.
But you know, it's really hard to keep these facts straight when you're merely representing your state in Congress, as well as considering a Presidential run. If you were a high school freshman however, it'd be fresh in your mind.
Michele Bachmann Mangles Revolutionary History [Huffington Post]