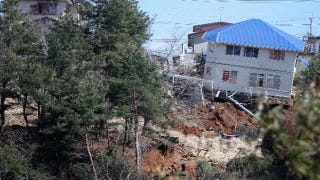 According to reports, the number of deaths resulting from yesterday's powerful earth quake and tidal wave is feared to have exceeded 1,700. Additionally, nearly 9,500 people from one town (more than half of its population) have been reported as missing, over 200 fires have flared up, thousands of buildings, homes, and business have been destroyed, and an estimated 6 million people have been left without electricity, gas, or water.
Radiation began leaking from a nearby nuclear plant on Saturday after a blast blew the roof off, and authorities are preparing to distribute iodine to people in the area to protect them from exposure.
Survivors are said to be huddled in shelters and hoarding supplies as rescue workers search for boats, homes, and cars that have been submerged.
Onodera said her ordeal the night before was "like a scene from a disaster movie."

"The road was moving up and down like a wave. Things were on fire and it was snowing," she said. "You really come to appreciate what you have in your everyday life."
Japan Quake Death Toll Exceeds 1,000 [The Voice Of Russia]
Desperation, Panic Grip Japan After Quake [Reuters]
Scenes Of Devastation At Heart Of Japan Disaster [Yahoo]
Japan Declares Emergencies At 5 Nuclear Units [My Desert]
Radiation leaks from Japan's quake-hit nuclear plant [Reuters]
URGENT: 9,500 Unaccounted For In Miyagi's Minamisanriku: Local Gov't [Kyodo News]
'No Health Hazard' As Evacuation Call Goes Out[The Australian]
Damage From Mega Quake Increasing, Death Toll Feared To Top 1,700 [Kyodo News]
Japan Quake: 10,000 Unaccounted For In Port [Isle Of Wight]
Desperation, Panic Grip Japan After Quake [Reuters]