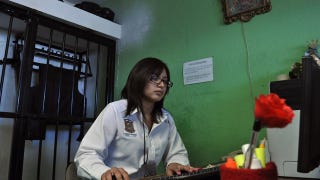 The criminology student who bravely volunteered to become police chief in a Mexican town run by drug gangs has been fired after failing to show up for work. The New York Times reports that 20-year-old Marisol Valles García, who was hired in October, left town after receiving death threats.
No one knows where García is, but a witness saw her crossing a bridge into Fort Hancock, Texas last week. Though the position had been left vacant after a previous police chief was beheaded, the mayor criticized García for "an act of abandonment," and fired her.
There are rumors that García is seeking asylum in the United States, and a relative told AFP that she had "received death threats from a criminal group that wanted to force her to work for them." Gustavo de la Rosa Hickerson of the Human Rights Commission says the mayor was too quick to fire her, since they don't even know where she is. "Right now Marisol needs support, and one way to be supportive is to leave her in office," he said in an Associated Press interview. "To fire her is to leave her completely alone."
Absent Police Chief Is Fired in Mexico, Ending An Experiment [NYT]
Young Mexican Female Police Chief Dismissed [AFP]
Mexico Town Fires Young Police Chief Who Left Post [AP]