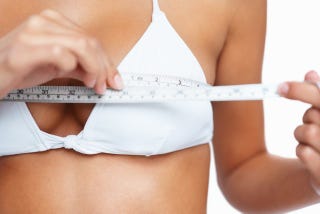 A Sugar Land, Texas engineer-cum-plastic surgeon is "reinventing the female breast." So, does this mean he's making them hollow so that we can put stuff in them, making purses a thing of the past? Is he arming them with a noxious chemical that sprays from our nipples when we're accosted by perverts on the subway? Making them detachable so that we can wear sundresses without looking like Pamela Anderson or go running topless during the summer without getting arrested? No! They're exactly the same, except he's making them perkier and prettier. Worst reinvention ever?
In all seriousness, his new technique that reduces and lifts the breasts by using existing tissue to create an "internal push-up bra" allows doctors to shape women's sweater puppies in a less invasive and more effective way. Dr. Gary Horndeski also has invented a new technique for surgical weight loss that relies on a negative feedback loop and a mesh internal implant around the stomach. I suppose this is good for people who need or want plastic surgery, but it sucks that a brilliant scientific mind is applying itself to making people skinnier or giving them bigger breasts rather than, say, curing cancer or learning how to genetically engineer a real-life Chewbaca that can skateboard and make sushi.
It's great that less invasive and dangerous plastic surgery techniques are being developed, and while I can't begrudge people for doing what they wish with their bodies, it's worth examining the culture that pressures women to seek personal fulfillment through aesthetic realization of a socially-dictated big, perky breasted ideal.
How One Surgeon Is Reinventing the Female Breast [Fastcodesign]