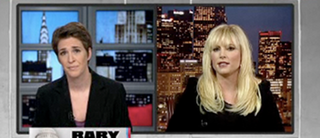 When Rachel Maddow informed guest Meghan McCain that she and partner Susan Mikula had their first date at an NRA Ladies Day, McCain invited Maddow to be her date to the next NRA convention.
Visit msnbc.com for breaking news, world news, and news about the economy
Maddow was gracious, saying. "Yes, I accept...Absolutely."
"I am going to hold you to that," replied McCain, and we hope she will: we'd love to hear Maddow's coverage of an NRA convention and, hell, why not bring Susan while she's at it? We're not sure why Meghan McCain is the voice of gun rights, but we're all for cross-aisle field trips!

Meghan McCain Invites Rachel Maddow to NRA Convention: Video [SheWired]