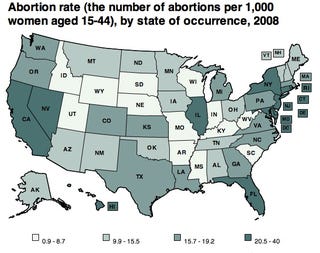 On CBSNews.com today, next to "Natalie Portman's Sexy Black Swan workout (this again?) a slideshow of the 25 states with the most abortions. We'll save you the clicks and get right to the point(s).
A new Guttmacher study found the abortion rate, having stalled for years, has leveled off, at least as of 2008, the last year we have data for. In another finding that was widely ignored in the reporting of this study, it's getting harder for a woman to access a provider without getting harassed — and harder to be a provider without getting shouted down daily.
There was a disturbing increase in the proportion of large nonhospital providers (those offering 400 abortions or more) reporting antiabortion harassment-from 82% in 2000 to 89% in 2008. Harassment was particularly common among providers of all sizes in the Midwest and South. Picketing was the most common form of harassment (reported by 55% of providers), followed by picketing combined with blocking patient access to facilities (21%).
Also, medication abortions — with a pill prescribed by a doctor and taken at home — are becoming more common.
Back to the state-by-state breakdown. The map above provides some relative frequencies but not the ranking. The number one state in terms of abortion rate is actually Delaware. Has anyone told Christine O'Donnell?
Twenty-Five States With Most Abortions [CBS News]
Guttmacher Data Center [Guttmacher]
Long-Term Decline In U.S. Abortions Has Stalled; Provider Harassment Has Increased [Guttmacher]