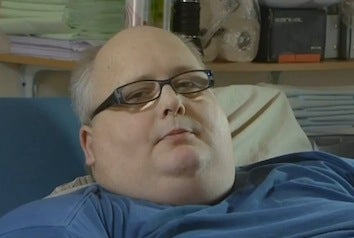 Paul Mason, who once weighed almost 1,000 pounds, is suing Britain's National Health Service for improperly diagnosing his eating disorder. Mason says he hopes to "set a precedent so no one else has to get to the same size."
Mason, 50, told The Sun that he begged NHS doctors for help when he weighed 420 pounds in 1996, but their advice was, "Ride your bike more." He claims that when he hit 896 pounds, he asked to see an eating disorder specialist, but was sent to a dietician instead. An NHS spokesman responded, "As we have not heard from Mr. Mason it would be inappropriate to speculate."
Internet commenters are already saying that staying healthy was Mason's responsibility, not the government's (though of course, they aren't saying it quite so delicately). Mason admits he was eating 20,000 calories a day at his heaviest, but that doesn't preclude that possibility the doctors didn't correctly treat his eating disorder.
Still, the timing of Mason's announcement is somewhat suspicious. As The Daily News notes, he became a minor TV celebrity after TLC ran a show about him called World's Fattest Man in May. Last week, the new documentary Britain's Fattest Man was watched by 2.49 million people in the U.K. Mason is now down to 518 pounds as a result of the life-saving gastric bypass surgery he underwent on the show. He says if he is awarded money from his lawsuit, he'll use it to help other severely obese people who need weight-loss operations.
Fattest Man Is Suing NHS For "Letting Me Grow" [The Sun]
Paul Mason, Once The World's Fattest Man, Suing NHS For Not Helping Him Sufficiently With Obesity