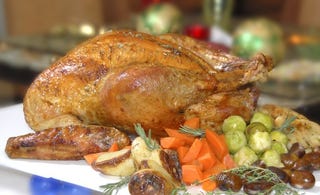 No, not your sweater puppies, dear readers, although I'm sure those are lovely. Your Thanksgiving tables.
As I'm blogging today, I'm running back and forth between my laptop and the kitchen, where I'm helping my friend cook dinner for 8 people. It's a fuckton of work, as I'm sure all of you who are cooking today know.
So I invite you to submit pictures of your impending feasts. Norman Rockwell style shit. I'll put a bunch of the best together for a massive end of the day post.
In the meantime, what's cooking?
Image via Shutterstock