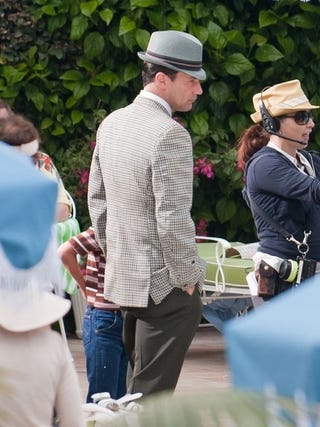 Rich Sommer, Mad Men's Harry Crane, got himself in a little trouble earlier this week when he Tweeted that he was "operating under the assumption that there won't be (a fifth season), until I hear otherwise."
It turns out that he's actually not sure that there's not going to be a fifth season, nor is he sure that there will be a fifth season, and this is not to say that a fifth season isn't going to happen or is going to happen, just that he's just not sure, okay? He's not sure! But now, according to an official blog post, it's a "very safe bet" that the show will return.
See? Clear as mud.
Whatever happens, Mad Men must at least return for sixty minutes to undo the atrocious episode of The Waltons that was the season four finale. I want Megan to turn out to be evil! I want a major character to die! I want Don Draper to come completely undone! I want blood! I demand blood!
"Sommer Clarifies Mad Men Comments" [Digital Spy]
Image via Bauer Griffin