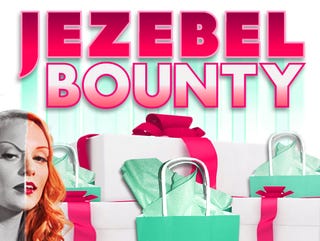 Another weekend, another chance at free stuff—could Fridays be any better? Chase the dream with this week's Bounty Contest, which rewards your clever cleverness.
This week's contest:
Per usual, we're looking for the most clever and original caption — think in the style of New Yorker cartoons — for this complicated image, which appeared in the November issue of Bazaar.


The sexual politics at play are staggering.
What you win:
This week, you win the tools to be squeaky clean, courtesy of Anderson Soap Company. Two winners will each receive two bars of Virile Olive Oil soap (made with organic coconut and palm oils) and two lovely bottles of Blackberry Sage Liquid Soap (a mild cleanser with zero sulfates, surfactants or detergents).


Can you say "yum" about soaps? Because yum.
Submit your captions in the comments only. The deadline for contest entries is Monday, November 8 at 12 pm ET. (NB: This is not a LOLVogue contest; maybe we'll take that approach another time). On that evening (10/25), a Jezebel editor will pick two winners(!) from the comments on this post at her's sole discretion based on wittiness and originality. We will notify the two winners by email on Tuesday, November 9 by 12pm ET.
All standard Gawker contest rules apply.
Some additional requirements: You must have a valid email associated with your commenter account. You may submit an entry or request a winner's list via mail to Gawker Media, Attn: Weekly Jezebel Bounty Contest, 210 Elizabeth, 4th Floor, NY, NY, 10012. Approximate retail value for prizes is less than $200.