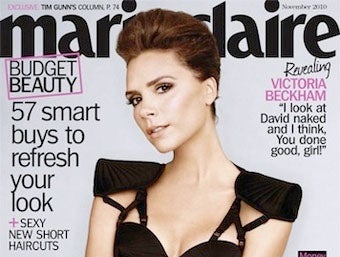 If you try to find the lightning-rod "opinion piece" "Should Fatties Get a Room (Even On TV)" a funny thing happens: nothing. It seems that, without a word, the magazine has taken the offensive post down.
At first we thought maybe it was a technical glitch. After all, It's an odd thing: the magazine claims to stand by Maura Kelly's piece — which they defended as "provocative." And they ran a series of counterpoint pieces as a means of responding. And yet, now they've removed it — giving the lie to these earlier actions? We don't know exactly what the magazine's rationale was; a PR rep from Hearst hadn't responded to our query at time of publication.
Are they hoping it'll be a case of out of sight, out of mind? That they can run a couple of "counterpoints," that Kelly can go back to writing about sexy Halloween costumes, and the whole unfortunate incident will be forgiven and forgotten? Maybe they're right: but only time will tell.
(The article is cached here.)
Related:
What Was Marie Claire Thinking With This "Fatties" Piece?
Marie Claire Responds To "Fatties" Controversy
Marie Claire's Controversy Counterpoint
Watch the TV Clip of Two People Kissing That Has Marie Claire So Grossed Out
Protest At Marie Claire's Offices
If You're Fat-Phobic, You're Also An Ignorant, Bigoted Idiot
Here's A Question: Who The Hell Is The "Fatties" Editor?