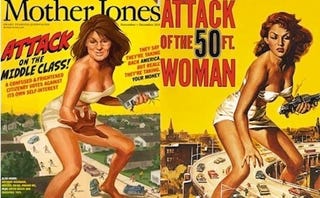 Politico quotes unnamed Republicans saying there is a "determined, focused establishment effort" to prevent a 2012 Palin nomination, because "Barack Obama would crush her." Conveniently, and inadvertently, Mother Jones' new cover— plus animation!—can dramatize their fears. Check it out.
Next For GOP Leaders: Stopping Palin [Politico]
Attack Of The 50-Foot Palin [MJ]
Animation And Cover Art By Zina Saunders/Mother Jones.