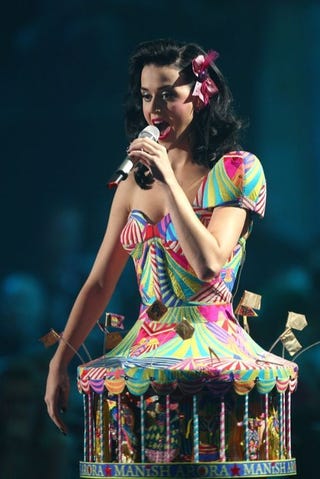 So now we know Katy Perry tops Maxim's Hot 100 list. The wacky singer is an interesting choice, considering past "hotties" include swimsuit models and smoldering actresses — none of whom would wear a light-up dress on the red carpet.
Previous Hot List "winners" include Lindsay Lohan (2007), Eva Longoria (2006 & 2005), Jessica Alba (2001), Olivia Wilde (2009) and Marisa Miller (2008). All ladies with lots to offer besides being "hot," but still women who fit Maxim mold of a beauty: thin with long hair and the ability to do an expert sexyface.
Katy Perry may have huge blue eyes, a gorgeous face and an uncanny knack for channeling the retro pin-up style of a Vargas Girl, but whether she's rocking an ensemble that/s half-tux, half-prom dress, wearing a watermelon romper, a banana romper or a dice dress, she seems less concerned with the Hollywood label of "pretty" and more interested in having fun. Of her electrifying dress at the Met Ball, she quipped: "I am trying to lighten up the party… Sometimes fashion can have a stick up its ass."
The mag explains the choice by noting that Katy "is the best friend you suddenly realize you've loved your whole life. The rad chick who taught you how to skateboard and whistle and also looks unbelievable in a bikini." In other words, a human being and not just an object of sexual desire. Imagine that!
Katy Perry Is Maxim's Hottest [Newser]
Katy Perry is the First Lady of Hot [Maxim]
Katy Power [New York Mag]
Earlier: Watch Katy Perry's Light-Up Dress In Action
Katy Perry, "Hottest Woman Alive," May Also Be Photoshop Victim