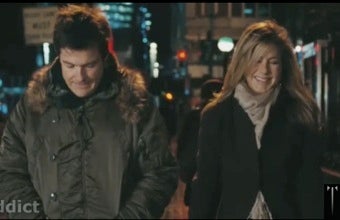 The trailer for the upcoming Jennifer Aniston/Jason Bateman flick, The Switch has been released, and though it looks like a vast improvement over Aniston's current film, The Bounty Hunter, it's still filled with rom-com trailer cliches:
Let's start with the trailer itself:





Based on a short story by Jeffrey Eugenides, the film, originally titled The Baster, could end up being a pleasant surprise, though all of the standard ingredients of your basic, tired, romantic comedy seem to be present, trailer-wise, anyway: the comic mix-up, the "one who got away," the precocious youngster, the wacky friends courtesy of Juliette Lewis and Jeff Goldblum, the "competition" love interest, who is naturally both handsome and kind of dumb, and, of course, Jennifer Aniston playing the character she often plays in such films: pretty, slightly neurotic, but overall a filter for another character's development or a woman who somehow needs a man to be complete.
So what do you think? Promising, or just another ultimately forgettable Jennifer Aniston rom-com?