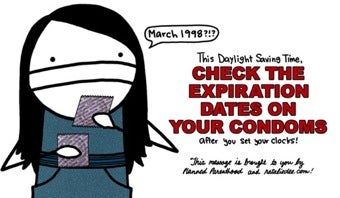 Once again, it's time for our Saturday Night Social. Don't forget: our SNL live thread will be up at 11:30 Eastern, so join us for the show if you're so inclined. If not, feel free to hang out here, instead.
Don't forget: it's Daylight Savings Time, so set your clocks ahead one hour before you go to bed (and check your condoms, too!). As always, let's keep things light and such. Here's a song to get you started:



Thanks for reading and commenting today, have a safe and happy Saturday night, and I'll see you in the morning (or at the live thread!).
[Image via Natalie Dee.]