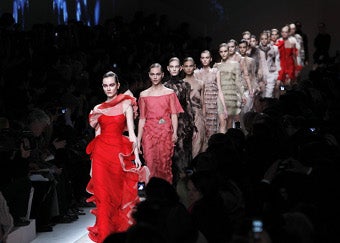 Even if the Bronzed Behemoth himself is no longer at the helm, Valentino's collection - under the direction of Maria Grazia Chiuri and Pier Paolo Piccioli - showed the label's trademark commitment to meticulous crafsmanship, Valentino red, and ruffled romance.
No joke, friends. We're talking ruffled coats.



Ruffled leather.



Ruffled pants.



Ruffled fur!



Look again: they snuck one in at the neck.



And, of course, dresses got the business!



Gauze and lace added to the romance.



But Valentino red was not neglected.



And no one, but no one, does a gown better.
[Images via Getty.]