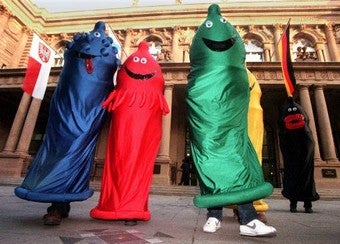 Last week Switzerland unveiled (unwrapped?) special smaller condoms for 12-year-olds, and now a British boy band is in talks to create their own line of rubbers. Which raises the question: Who wants to have sex with a boy-band condom?
The Mirror reports that the band JLS — artistic powerhouses who were apparently runners-up in the 2008 season of the British reality show The X-Factor — "have been in discussion with a condom manufacturer about the possibility of getting into bed together" (lolz!!). This congress could even produce color-coded condoms, since the four members of JLS apparently associate themselves with red, green, yellow, and blue, respectively (thankfully, that's not them above).
Color-coded boy-band condoms have just won my personal reality show, The Ick Factor, but maybe they're a good idea for the same 12 to 14-year-old demographic Switzerland's hoping to reach with its Hotshot condom. While I'm all for decreasing pregnancy and STDs among the youngest at-risk group, I do wonder if slapping the image of some corporate-pop crooner on a box of prophylactics is really going to do it. Are kids really going to be swayed toward safer sex by the siren song of a color-coded dick? If so, more power to JLS, I guess. Still, I blanched at The Mirror's news that 50 Cent has been mulling his own condom launch. Seriously, would you sleep with a guy who pulled out a 50 Cent condom?
JLS To Launch Range Of Condoms? [Mirror]
Update: New York City just announced its new condom design, a rather cute power-button symbol. We'll take this over boy bands — or Fiddy's face — any day.
Earlier: Size Matters
Dick Insecurity: Should Women Have Sympathy?