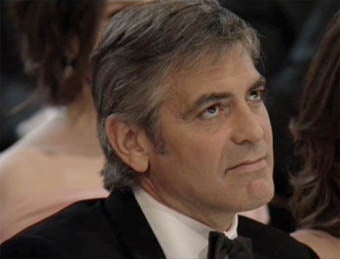 Watching the Oscars with an uninterested male is a special thing. Whether he simply cannot comprehend what he's watching — or just refuses to figure it out — the endgame is always the same: a soundtrack of inanity.
We asked a small sample of lady friends to surreptitiously take notes on their male companions' utterings last night. The findings range from cantankerous to dumbass.
"Sigourney Weaver? Is she still around? Oh, right. Avatar."


"This makes me want to join Al Qaeda."


Dude 1: "Sandra Bullock is boring."
Dude 2: "I think that's a strategy."


"What's up with that guy's hair? He needed to close the window on the drive over." — re: Zac Efron


Girl: "Look at Macaulay Culkin!"
Guy: "Wait, where?"
Girl: "That guy who's talking!"
Guy: "Wait — that's him, like, right now?"
Girl: "Yes, it's LIVE."
Guy: "That's what he looks like now?"
Girl: "YES."
Guy: "Wow, he looks weird. Home Alone is such a great movie…"
[fades off to doing work on his computer]


"Are Natalie Portman and Quentin Tarantino dating? They're sitting next to each other."


"This is so embarrassing to everyone involved."


[Huge yawn] "Er, sorry."


"Her mom seems like some white-trash broad who snuck into the Oscars." — re: Miley Cyrus (or her mother, rather)


"Oh, she's Frau whoever, right?" — re: Diane Kruger


Husband: He's a good-looking dude.
Wife: Colin Farrell?
Husband: Oh. I thought that was T-Bone Burnett.


"Come eat your dinner before it gets cold."