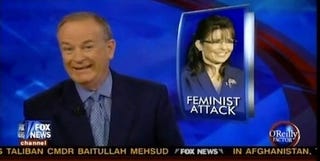 Which is exactly what he's known for subjecting women to.
Among the many utilities of Sarah Palin's inexorable hold on public imagination is that it gives Bill O'Reilly a renewed excuse to trash feminists.






O'Reilly is indignant that women like Eve Ensler (who questioned Palin's intelligence in an interview with Joy Behar) continue to "demean" Palin's "intelligence."
"I know you're a liberal, but you're also a woman," he says to radio show host Leslie Marshall, the designated feminist interlocutor. "Why is it necessary to continue to do this and when will women continue to say, knock it off?"
Watch for his consistency when it comes to Hillary Clinton — when people attack her, he says, it's just because she's done "dubious" things.
Bill O'Reilly Wants You To Know He's Smarter Than Eve Ensler [Mediaite]