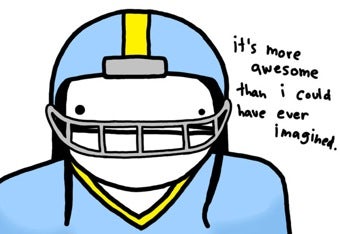 This weekend, we airbrushed our armpits away, learned how not to flirt, took a ride with Sarah Palin on the Tea Party Express, searched for a new style icon, tried to find a date on campus, and trusted no one.
It's Super Bowl Sunday, and we're going to have a big open thread party with our brother sites Gawker and Deadspin to celebrate, so feel free to stop in! If that's not your thing, you are more than welcome to stick around here and fight the Sunday night blues with your fellow commenters. Here's a song to get you started:



Thanks for another lovely weekend!
Image Via Natalie Dee.]