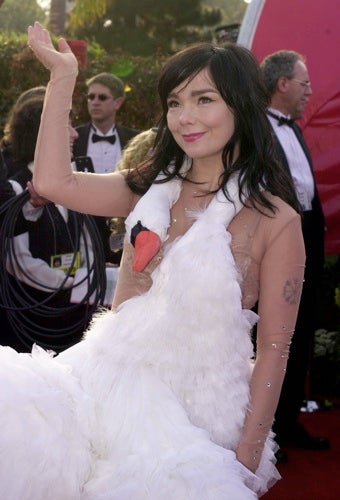 Oh, awards season! You give us so many dumb things to talk and worry about for about a month or so before you end and we completely forget about you. Let's celebrate you with a quiz, shall we? We shall!
Awards shows are great in that they deliver the same thing every year with slightly tweaked results, thanks to the nominees. Regardless of the nominees, there are some awards show cliches that return year after year. Which one are you? Let's find out!


1. Congratulations! You've been nominated for an award! How do you respond?
a. Tell everyone it's an honor to be nominated, like you always do.
b. Correct 15 reporters after they mispronounce your name.
c. Have "award nominated" tattooed on your hand and shove it in the face of anyone who questions anything you do ever again.
d. Cry.
e. Sit down and write a list of 190289 people you need to call right away.
f. Drink a big glass of water and giggle.
g. I wonder why it's only 21 nominations instead of 22. Those motherfuckers are going to pay!
h. You'll have to find out Tuesdays at 10!
2. It's time for you to choose a red carpet outfit. You:
a. Wait, as always, for the designers to come to you.
b. I don't know! What am I supposed to do?!
c. Stand in front of several stores until a dress calls to you from the beyond
d. Get a bit teary just thinking about it, actually
e. Make a 12:30pm appointment with a designer. By 8:30pm, you're ready to go.
f. Choose something you can dance—and more importantly, drink—in.
g. It doesn't matter. I'll still look better than anyone else, thanks to the 800 trophies I'll be bringing home. That includes you, sweetheart, eh?
Something that looks good on me...like my new time slot, Tuesdays at 10!
3. It's time to write a speech, just in case. You decide to thank:
a.The usual suspects.
b. Everyone who believed in you, and everyone who thinks dreams really can come true.
c. Oh, darling, the teleprompter does that for me!
d. Oh gosh...um...oh, I'm so sorry, um...can you give me a minute? I'm just really emotional about this!
e. Well, we'll start with Allan Aaris, from my 10th grade math class, and we'll end with Ziggy Zippo, who handed me a packet of ketchup in McDonald's once in 1982.
f. Is there some kind of alarm that goes off so we'll know when we have to be there to give a speech?
g. Nobody, you assholes. I did this all by myself. No, j/k, j/k. I'll thank some people the "little folks" at home have never heard of. But seriously though, it doesn't matter, because really I did it all myself.
The fine folks at the network, for scheduling me for Tuesdays at 10.
4. Choose One Word To Describe Your Mood Going In To The Ceremony
a. Calm
b. Excited!
c. Whipporwills
d. Emotional
e. Just one word? Well....let's see...
f. Thirsty
g. GREATNESS
h. Tuesdaysat10!
5. What Do You Hope To See In Your Gift Bag?
a. Something I can donate
b. There are gift bags at this thing!?!
c. A dragon's tail and a piece of wind to call my own
d. Tissues
e. A dictionary to read
f. Bottled water. I'm so thirsty!
g. Oh, I don't give a fuck, man. I feed that shit to my dog.
h. Something I can use. Preferably on Tuesdays. At 10.
Results will be up shortly!