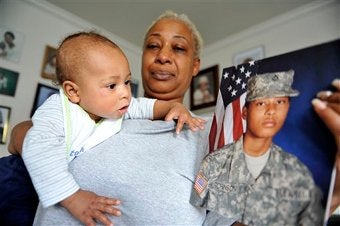 Wait, the army's not actually willing to jail the single mom who refused to deploy to care for her 10-month-old, and wouldn't put him in foster care. Right? Oh, wait, they are:
Spc. Alexis Hutchinson, a 21-year-old Army cook, didn't show up for her unit's deployment in November when it developed that she had no one to care for her baby son. Now, she's been formally charged. Says NBC, "A spokesman for Hunter Army Airfield in Savannah said Wednesday that Hutchinson has been charged with missing movement - for missing her overseas flight - being absent without leave, dereliction of duty and insubordinate conduct." If convicted, Hutchinson could face up to two years in prison and a dishonorable discharge.
While the high number of single parents in the military - roughly 5% - might make such situations seem routine, in fact, they're rare: the Army requires a care plan for any dependent young children before a parent is depolyed. The problem here is that Hutchinson's mother, who'd agreed to care for her grandson, backed out at the last minute, after finding the baby's care, in combination with her other responsibilities, too daunting.
The issue, says the Army, is not that Hutchinson wanted to stay with her son, but that she didn't notify anyone, and simply failed to report for duty. And here's where things get really murky. Hutchinson says the Army gave her an extension to arrange care - then reneged, leaving her insufficient time to form a plan. And what's more, from NBC again: "Hutchinson's civilian attorney, Rae Sue Sussman, says the soldier was afraid to show up for her overseas flight because one of her superiors told her she would have to deploy and turn her child over to the state foster care system." (This is, indeed, what happened briefly after Hutchinson's arrest.)
According to IPS, covering the case in November, the Army simply felt Hutchinson was a shirker:
Sussman says Hutchinson told her, "It is outrageous that they would deploy a single mother without a complete and current family care plan. I would like to find someone I trust who can take care of my son, but I cannot force my family to do this. They are dealing with their own health issues." Sussman told IPS that the Army's JAG attorney, Captain Ed Whitford, "told me they thought her chain of command thought she was trying to get out of her deployment by using her child as an excuse." ' Major Gallagher, of Hutchinson's unit, also told Sussman that he did not believe it was a real family crisis, and that Hutchinson's "mother should have been able to take care of the baby". In addition, according to Sussman, a First Sergeant Gephart "told me he thought she [Hutchinson] was pulling her family care plan stuff to get out of her deployment". "To me it sounds completely bogus," Sussman told IPS, "I think what they are actually going to do is have her spend her year deployment in Afghanistan, then court martial her back here upon her return. This would do irreparable harm to her child. I think they are doing this to punish her, because they think she is lying."
The Army's position? She just didn't have her act together. From CNN's initial reporting:
Fort Stewart spokesman Kevin Larson said Hutchinson's unit had known for months about its pending deployment and that it wasn't until the last minute that Hutchinson notified the Army of her child-care woes. Like all soldiers who face similar circumstances, Hutchinson received a 30-day extension back in August and September, Larson said. That's "plenty of time," he said, "to work out another care plan."
And as some have argued, the military's not a normal job: it's a contract with clear rules and consequences.
While one's heart can't but go out to both Hutchinson and her son, I'm increasingly interested to hear the take of other single parents who've been deployed and faced similar situations. As the case is being presented now, it's a David-and-Goliath, or, alternatively, the realistic demands of joining the service versus individual lack of commitment. (And believe me, the mud is flying fast from both sides.) Anyone who's followed the army's repeated disregard and lack of understanding of women in the service is inclined to turn a jaundiced eye upon the Army's justifications and feel instinctively that this young woman is being made an example of rather than providing an opportunity for necessary system reform. But none of us - at least, none of the many writers and bloggers whom I've seen commenting - has dealt with these realities, these time frames, the parallel universe of military stricture. Whatever the finding, this woman should not be in jail: her child should, at this point, be the government's highest priority, which seems an important example to set as well. But please, can any of you out there who have experienced these challenges weigh in?

Army Charges Mom Who Refused Deployment [NBC]
U.S.: Army Sends Infant To Protective Services, Mom To Afghanistan [IPS]
Mom Chooses Son Over Service [CNN]