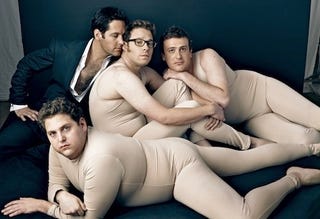 According to one interviewee in The New York Post, "Big-name comedians have what the Rolling Stones have for music groupies. It may not even be sex appeal; it's like laugh appeal. They're assholes." Comedians call such women "chucklefuckers." Funny!
Whether women swooning around comedians is actually a real phenomenon (the woman quoted "is not a groupie (she and [comedian Jeff] Ross had a real relationship)," the article helpfully qualifies) is difficult to determine from the article, although its general premise has been borne out by some research. One thing is clear, though: Guys win on this one.
The author, Mandy Stadtmiller, should know — though doesn't mention it, she herself is a stand-up comedian (whose website, by the way, contains an endorsement from one of the comics she quotes in her piece: "She's not a 'funny female comic.' She's just a funny comic.") But she does try to find out whether the reverse applies to funny ladies:
"I think it's very different for women," says Morgan Murphy, a stand-up comedian and "Late Night With Jimmy Fallon" writer. "I have never thought to myself, 'Man, I killed. I'm gonna get so much penis.' "
Maybe Sarah Silverman or Janeane Garofalo can beg to differ, but it might be wishful thinking.
Funny Honeys [NYPost]
Earlier: Funny Guys Always Get The Girl
Vanity Fair Celebrates Funny Girls