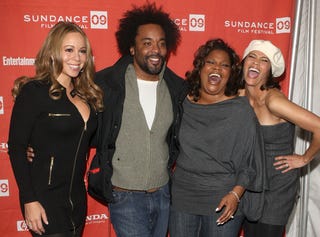 lay to rest the diva label once and for all.
Considering the "who does she think she is" undertone to most of the Oscar commentary so far, the Times piece is refreshing to read. Everything you need to know is right here:
Mo'Nique, 42, says she cares deeply about "Precious" and is thrilled to be among the mentioned, but she is not about to reorganize her life or her priorities to get her mitts on an Oscar. "The Mo'Nique Show," her daily talk show on BET, just began in October, and while other hopefuls are criss-crossing the country for all manner of events, chatting up Oscar bloggers and making sure that everyone knows that they want it, Mo'Nique is mostly here in Atlanta, tending to her show.
Need more reasons why Mo'Nique might not be so interested in committing to more than her performance?
"I've been asked the question before," she said, "and it's like, guys, I also have this show called 'The Mo'Nique Show' where I tape six shows a week. I have twins who are 4, so I have babies, I have an amazing husband and a son who's 19. What I can participate in I'm more than happy to."
More proof? Far from being slighted, Lee Daniels and crew understand completely:
Mr. Daniels makes it clear that the support he needed from Mo'Nique for this film came on the set.

"We are in our bubble, and we pay no attention to any talk about what she should and not be doing right now," he said. "We've been told from the start that no one would see a movie about a young black girl, that it wouldn't make any money, on and on. Instead here we are, with all kinds of people going to see the movie, and even talking about the Oscars."
Hopefully, this will be the last we hear about this trumped-up Oscar controversy and failure to kiss the proper rings in order to move forward. As Mo'Nique has been saying since the beginning, please let the performance speak for itself.
Me, Campaign? Just Go To The Film [NY Times]