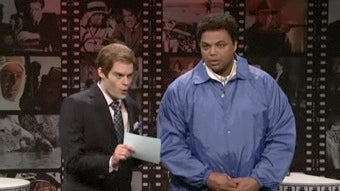 When Charles Barkley was announced as the host of Saturday Night Live's first show of 2010, the collective response in our comments was "huh?" Surely there must be some reason why SNL was bringing Sir Charles back to host, right?
Well, no, not really. After the first half of the season was dominated by hosts in their early 20s, it was fun to see someone born before 1980 taking the reins, though it still wasn't clear why Barkley, out of anyone else they could have had hosted, was the one who got to kick off 2010. I guess "why not?" as as valid an answer as any, as Barkley may not have been a great host, but he certainly held his own amongst the other hosts of the season, which isn't saying much.
Barkley had hosted SNL before, in 1993, and tried to explain the changes that had taken place since his last appearance in a monologue based around "honesty," though apparently some things haven't changed in 16 years, as Barkley still took the time to get an Urkel joke in. Still, the monologue was funny due to Barkley's flat delivery, especially on "honest" lines describing the show like "Well, some of it is great, some of it we're gonna do anyway."



The "Reel Quotes" game show sketch, reminiscent of "Celebrity Jeopardy," gave Barkley some great lines as well. It's a silly premise, but that's the point, and it works:



Andy Samberg's ridiculous and hilarious Nicolas Cage impression was the highlight of Weekend Update (and maybe even the entire show). Seth Meyers had a few zingers, but overall the Weekend Update segments still seem to be floundering with only Meyers on the desk. I don't know. After years of seeing two quick "anchors" working back and forth, perhaps it's just hard to adjust to a solo newsman and a bunch of "here to comment" type guests.



And though it wasn't the best digital short, it was still kind of funny to watch Alicia Keys try to get sexy with a terribly goofy Andy Samberg (though I kind of wish he had stuck with Shy Ronnie):



MacGruber returned last night, bringing a bunch of awkward racial humor with him:



In any case, the show wasn't great, but it wasn't terrible. There were misfires (like Kristen Wiig's "sex kitten with bowel problems" ski chalet bit), and though it seemed as if the show played things a bit safe, there were a few pretty funny moments. Hopefully next week's episode, starring the always-awesome Sigourney Weaver, will give us a bit more to talk about, in the best possible way.