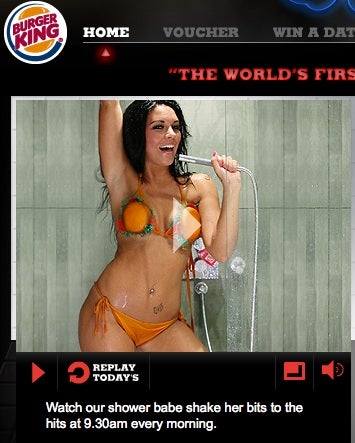 Burger King UK's campaign promoting its new breakfast involves watching a bikini-clad girl singing via "the world's first guilt free showercam." You know, as opposed to surreptitious ones you kinda feel bad about. "Viral videos": Same shit, new platform?
The interactive aspect of the campaign, which basically entails watching "our shower babe shake her bits to the hits at 9.30am every morning" is that you can vote on the song and the bikini. (So maybe it's not just for 18-25 year-old boys. Because it involves fashion! I vote fried egg bra.)
But okay, we know we're not the demographic for this campaign. As I recently learned, YouTube is the ultimate arbiter of the viral video sensibility (especially when it literally involves bathroom humor!), and the rest of us are a gaggle of idiots who have nothing better to do than to suck the last drop of humor out of life." So what's the word from the people on the audition outtakes the agency calculatedly loaded to YouTube?
Oh. Okay. So it's unanimous.
Singing In The Shower [Burger King UK]
Singing In The Shower Auditions [YouTube]
Related: The Last Word On Method's Horny Shiny Suds [AdRants]
Earlier: Ladyblog Commenters Ruin Everything