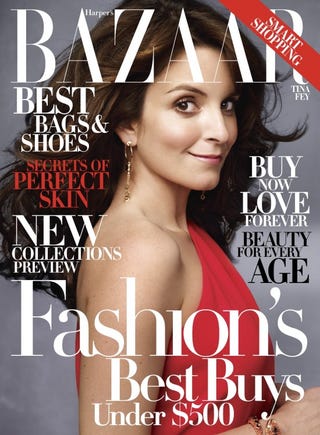 Tina Fey is on the November cover of Harper's Bazaar and though she's the antithesis of the cover girl who "doesn't work," the accompanying photos look like any other fashion spread. Has Tina become just another pretty face?
This isn't Tina's first time on a women's magazine. She was on the cover of Marie Claire in 2008 to promote Baby Mama — pre-SNL Sarah Palin impression, and before Feynaticism had reached critical mass. At the time, it was a little surprising to see her dressed up on the cover of a magazine since she'd mostly been seen in blazers on Weekend Update and frumpy writer's attire on 30 Rock. In retrospect, she wasn't actually that glammed up in Marie Claire. Sure, her infamous scar was Photoshopped out of every shot, but she's wearing a simple trench coat Liz Lemon might wear, without the diamond earrings and popped collar, and perhaps with a few more mustard stains.
Inside Marie Claire, Tina was pictured with her signature glasses, sitting at a typewriter. She's cute, but she's a writer, not some starlet famous solely for showing up on the red carpet and appearing on magazine covers.
In the new Harper's Bazaar, the tools of Tina's trade are nowhere to be found. Rather than slaving away over a 30 Rock script, she's actually posing.
Of course, Bazaar is generally more focused on fashion than Marie Claire, but the Marie Claire shoot was totally about what Tina does, not what she was wearing. The only notes about her clothes are written in fine print along the magazine's spine, after the hair and makeup credits.
The description of this photo in Bazaar is:
Great style is a cinch. Dress, $1,495, and belt, $1,295, Michael Kors. 212-452-4665. Earrings, $175, Alexis Bittar. alexisbittar.com. Cuff, $14,500, Frank Gehry for Tiffany & Co. 800-526-0649. Shoes, $860, Manolo Blahnik. Barneys New York, NYC; 212-826-6900.
Great style isn't even "easier than putting lipstick on a pitt bull," it's just "a cinch," the same as it would be if Lauren Conrad were wearing that $1,495 Michael Kors dress.
But when Tina stares off into space in Marie Claire, you can tell she's using her "mind grapes" to come up with more ways for Tracy to annoy Jenna.
Tina took her first steps toward a sexier image on the cover of Vanity Fair in January 2009. Much of Maureen Dowd's profile was devoted to the weight loss and makeover that took Tina from "very mousy" to everyone's favorite "brainy glamour-puss." At this point Dowd still need to qualify that she's brainy albeit a glamour-puss.
Despite the irritating emphasis on her figure, the description of Tina's clothing is just as hard to find in Vanity Fair as it was in Marie Claire. Though she isn't actually wearing her glasses anymore, they're still in her hand.
Or in her mouth.
She finally loses the glasses in this shot from Vanity Fair, but it seems Annie Leibovitz still wanted to emphasize her personality rather than the little black dress she's dancing in.
It's a far cry from this shot in Bazaar, in which all Tina's saying is, "Hey, check out my $1,995 Yves Saint Laurent cotton-twill bustier dress!"
Now certainly, Tina is smart and talented whether she's holding nerdy accoutrement or not. But are her new fashion-focused photos in Bazaar a step in the right direction? Previously, magazines pushed the image of the smart girl who suddenly looks hot when she whips off her glasses; now Tina is just hot. On the one hand Bazaar is featuring a cover girl who isn't considered conventionally attractive (even though she does have an attractive face and a tiny body) but is famous for her work. On the other hand, why have a celebrity who admits she knows nothing about fashion and compares herself to Tootsie in the cover profile model clothing? Though it's great to see a woman of substance on the cover of magazine aimed at women, we're still more interested in what Tina does, not how she looks in Manolos.
Tina Fey's profile and cover shoot are available online and in the November issue of Harper's Bazaar, on newsstands October 20.
Tina Fey's Cover Shoot [Harper's Bazaar]
Tina Fey Rocks! [Harper's Bazaar]
Earlier: Why Do Women's Magazines Pick Cover Girls Who "Don't Work"?
Vanity Fair: Tina Fey Drops 30 Pounds, Is Scarred For Life