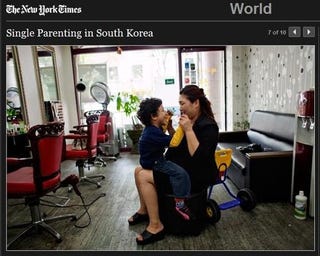 "Once you become an unwed mom, you're branded as immoral and a failure. People treat you as if you had committed a crime. You fall to the bottom rung of society." In South Korea, social stigma is serious business.
Today, the New York Times has an insightful article exploring the lives of single women who choose to become parents in the face of overwhelming disapproval.
Societal pressures play a large role in why South Korean women give up so many children for adoption. Interestingly, while abortion is technically illegal, it is estimated that 96 percent of unwed women opted for the procedure. Of those who carried the pregnancy to term, nearly 70 percent relinquished their children for adoption. The nation's government has tried to retain more of the nation's children, but as taken a hardline when it comes to the single mothers that bear them. According to reporter Choe Sang-Hun,
The government pays a monthly allowance of $85 per child to those who adopt children. It offers half that for single mothers of dependent children.
While the government says it is trying to increase the amount of support provided, look at the host of benefits the government provides to increase the declining birthrate:
To increase adoptions at home, it provides subsidies and extra health care benefits for families that adopt, and it designated May 11 as Adoption Day.

It also spends billions of dollars a year to try to reverse the declining birthrate, subsidizing fertility treatments for married couples, for example.
Throughout the piece, various women discuss how being an unwed mother has impacted their dating, family, and professional lives:
Families whose unmarried daughters become pregnant sometimes move to conceal the pregnancy. Unwed mothers often lie about their marital status for fear they will be evicted by landlords and their children ostracized at school. Only about a quarter of South Koreans are willing to have a close relationship with an unwed mother as a coworker or neighbor, according to a recent survey by the government-financed Korean Women's Development Institute.

"I was turned down eight times in job applications," Ms. Lee said. "Each time a company learned that I was an unwed mom, it accused me of dishonesty."

Ms. Choi, the hairdresser, said her family changed its phone number to avoid contact with her. When her father was hospitalized and she went to see him with her baby, she said, her sister blocked them from entering his room. When she wrote to him, she said, her father burned the letters. Last year, about three years after the birth, he finally accepted Ms. Choi back into his home.
In the face of all this, a group has formed to advocate for women being allowed to raise their children on their own. The Korean Unwed Mothers Support Network was founded to fight for the rights of women and has found international allies. The network was founded by an American adoptive father, who renounced his "rescue and savior mentality" after visiting S. Korea in 2006 and wondering why so many of these women were giving up their children. He decided to channel his energy into improving the lives of young women in Korea instead of helping other couples adopt children from the country.
As quoted from the site's mission statement:
The Network's primary focus is on raising awareness in Korea and amongst Korean groups in the US to effect positive change. The Network works to educate, inform and promote discussion about the difficulties facing unwed mothers and their children in Korea in order to elevate their economic, political and social potential in society.
(Image from the New York Times slideshow)
Group Resists Korean Stigma For Unwed Mothers [NY Times]
Illegal Abortion, South Korea's Open Secret [Reuters]
Official Site [Korean Unwed Mothers Support Network]