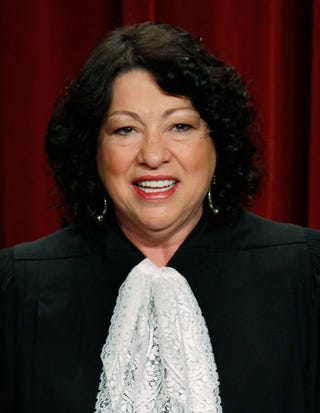 Justice Sotomayor is creating headlines this week as she takes her place on the bench. However, Sotomayor's appointment is only one of the many changes that have started to rock the nation's highest court.
SCOTUS has a full year ahead with an interesting docket. Some of the cases are truly gruesome:
Among the most anticipated cases so far are two that raise the question of whether it is constitutional to sentence juvenile offenders to life without parole. One of the defendants was just 13 when he raped an elderly woman in her home - an appalling and brutal crime, but one that did not involve homicide. We should not be giving up on a person for an act committed at 13. A few years ago, the court ruled that the death penalty for juvenile offenders amounted to cruel and unusual punishment. It should extend that reasoning to these cases.
Others deal with how much business can influence politics:
The most important business case, however, is one the court heard last month. In Citizens United v. F.E.C., the court could wipe out a longstanding ban on corporate spending on federal elections, which would allow big business to swamp democracy. We hope the court will avoid such recklessness, and rule narrowly.
The news about Sotomayor is mostly speculation. The Washington Post asked various experts (only one of whom has worked with Sotomayor in any capacity) about what to expect when she takes the bench. Most of the experts parroted ideas we've already heard before - that Sotomayor's experience will be a welcome addition to the court, or that Sotomayor's presence will not ultimately shift the balance of power. Sotomayor's acquaintance from law school provides a bit more of a glimpse into Sotomayor's style:
GERALD TORRES

Professor at the University of Texas School of Law; counsel to Attorney General Janet Reno; knew Sotomayor when she was a law student

We can expect a careful judge — and I use the term judge purposely. As a federal prosecutor, federal district judge and federal appellate judge Sonia Sotomayor was not merely a justice-in-waiting. She comes to the role of justice having served more than a perfunctory appellate court apprenticeship, from a long exposure to the importance of facts and their role in constructing the meaning of law. This training has produced sensitivity to how law affects the lives of the people before the court. Principles live through people, not the reverse.

Her questioning of the parties in the first case she heard, Citizens United v. Federal Elections Commission, reflects these commitments. In one question, she asked if the court would be "cutting off" the "future democratic process" if it ruled broadly, deciding to answer a question not properly before it in order to treat all corporations as natural persons. It was the right question, especially because it was a judge-made rule that created the problem the court was addressing. For Sotomayor, perhaps, it is the wise people who ought to lead rather than the courts.
(Torres was also the only expert to refer to a specific example of what Sotomayor has done recently.)
But more of the speculation is about Sotomayor's actual beliefs.
For the most part, however, all eyes will be on Sotomayor. Most of the court handicappers will be watching for early signs of how she might depart from the liberal voting record of her predecessor. Originally a Republican nominee to the trial court (though later put on the appellate court by President Clinton), Sotomayor was suggested as a nominee for President George W. Bush and has a more conservative voting record than Souter. If she votes the way she voted on the appellate court, liberals will lose ground with her selection.
In other news, USA Today contacted Sandra Day O'Connor and asked about her opinions of the current Court:
Asked how she felt about the fact that the current court had undone some of her rulings, the nation's first woman justice responded, "What would you feel? I'd be a little bit disappointed. If you think you've been helpful, and then it's dismantled, you think, 'Oh, dear.' But life goes on. It's not always positive."

O'Connor, appointed by Ronald Reagan in 1981, was a moderate conservative who often brokered compromises among justices and across ideological lines.

Since she retired in 2006, the court has become more conservative and retreated from some rulings in which she crafted consensus, including on abortion rights, campaign finance and government race-based policies. [...]

Asked about regional diversity, she said, "I don't think they should all be of one faith, and I don't think they should all be from one state." On the court are now a record six Catholics; two are Jewish; one, Protestant.
The Kid's Post (a supplement in the Washington Post) has a cute way of explaining the Supreme Court to the young ones:
Ever get into a fight with your sister, say, over who spilled the soda on your iPod? Your sister blames you and claims you bumped her into the soda, causing the spill. You blame her because her elbow knocked over the soda. You ask your little brother what he thinks. He blames you. You ask your babysitter what she thinks. She also blames you. Finally you ask your mom, the highest authority in the house, what she thinks. She decides that because you were running in the house breaking the rules, it's your fault.

That is, in a way, how the U.S. court system works. Your mom is like the U.S. Supreme Court, which has the final say in court cases. Today, the Supreme Court begins its 2009-2010 session.
Much of the discussion of the Supreme Court revolves around the men of SCOTUS, with Justices Kennedy, Roberts, and Alito all being lauded as ones to watch. Though some court experts believe that Roberts and Alito are going to the take the lead setting the court's tone, others are not so thrilled:
Some discord was on display during Sotomayor's confirmation hearings, where liberal Democratic senators excoriated Roberts and Alito.

"For all the talk of modesty and restraint, the right-wing justices of the court have a striking record of ignoring precedent, overturning congressional statutes, limiting constitutional protections, and discovering new constitutional rights," Sen. Sheldon Whitehouse (D-R.I.) said in a typical complaint.
While most reports are mentioning that 89 year old Justice Stevens may actually retire, opening a new position on the court, there is much that remains to be seen.
The Supreme Court Returns [New York Times]
Justice Sonia Sotomayor's free-speech tests [LA Times]
Sotomayor's First Term [Washington Post]

Sandra Day O'Connor says rulings are being 'dismantled' [USA Today]
EVER WONDERED how the Supreme Court works? [Washington Post]
For Roberts, Alito, a New Visibility [Washington Post]
Supreme court term has major gun rights, business cases [Reuters]