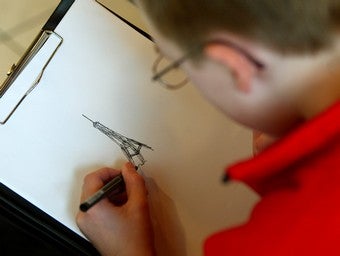 Two studies show more American kids have autism spectrum disorders than previously thought, about one in a hundred. But critics caution that the study methodology may be flawed.
A previous estimate had put the prevalence of autism spectrum disorders (including Asperger's, which affects the young artist pictured above) at one in 150, but a new telephone survey and a more in-depth CDC estimate indicate the disorders are more common. Some of the rise may be due to improved detection, but Dr. Thomas Insel, director of the National Institute of Mental Health, says, "The concern here is that buried in these numbers is a true increase. We're going to have to think very hard about what we're going to do for the 1 in 100."
Others are more critical of the study's findings. The telephone survey in particular, which found an autism rate of 1 in every 91 children, has drawn fire. Researchers asked parents two questions: whether they had ever been told by a doctor that their child had an autism spectrum disorder, and whether the child currently had such a disorder. If they answered yes to both, the child was counted among those suffering from an autism spectrum disorders. But autism researcher Irva Hertz-Picciotto says the explanation of the disorder is given to parents was insufficient, and notes that the second question didn't actually ask about a doctor's diagnosis.
Also, 40% of parents who answered yes to the first question said no to the second, which is odd because autism spectrum disorders are considered incurable. Researchers think this means some children were initially misdiagnosed. This calls the whole study into question a bit, as it underlines how difficult autism spectrum disorders are to diagnose at all. Dr. Susan E. Levy, a member of the American Academy of Pediatrics subcommittee on autism, says, "With diabetes you can get a blood test. As of yet, there's no consistent biologic marker we can use to make the diagnosis of autism."
A genetic test for autism may be on the horizon. Until then, autism research and diagnosis will likely remain controversial. The CDC survey, whose full results have not been released yet, found a prevalence of about one in a hundred by analyzing children's health and education records — when it is fully made public, it may gain more acceptance than the telephone survey. But as long as a diagnosis is made based on somewhat subjective behavioral symptoms, scientists and parents will probably always disagree on how many children have autism, and how severe the problem is. It's interesting to note that half the parents of autistic children in the telephone survey believed their children's disorder was mild.
The new studies do add some evidence, however, to support the notion that the percentage of autistic children is rising. Unscientific yet popular theories about the dangers of vaccination have somewhat clouded a real effort to find out why this might be. If autism really is growing more prevalent, we need to figure out if any environmental factors are contributing to this growth. And be need to me sure our society is equipped to serve the needs of a growing number of autistic children and adults. Dr. Insel says the new studies raise "a lot of questions about how we are preparing in terms of housing, employment, social support — all the issues that many of these people are going to need. It also raises questions about how well we're prepared in the educational system to provide for the special needs of many of these kids." The educational system in America right now is neither very flexible nor very hospitable to children who fall outside a certain behavioral norm. This should change anyway — perhaps these new studies will provide some motivation.
Studies Show 1 In 100 Kids Have Autism [AP, via CBS]
Study: More Cases Of Autism In U.S. Kids Than Previously Realized [CNN]