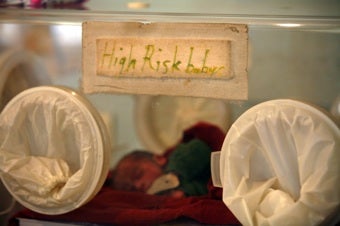 According to a study by the World Health Association and the March of Dimes, one in ten babies worldwide is born premature, with roughly 13 million babies being born each year before reaching 37 weeks in the womb.
According to David Brown of the Washington Post, "about 12.9 million babies are born too early each year, representing 9.6 percent of births. Of 4 million deaths that occur soon after birth, 28 percent are attributable to prematurity. Some of the data provided by WHO is only for women bearing one baby. Women carrying multiple fetuses have a much greater risk of delivering early."
Africa has the greatest percentage of premature births (11.9%), but as the Los Angeles Times notes, the United States isn't far behind, with 10.6%. Lauran Neergaard of the Associated Press notes that "different factors fuel prematurity in rich countries and poor ones," and that these factors need to be focused on in order to reduce premature births and infant deaths.
Neergaard describes a "kangaroo care" program in Malawi wherein mothers are urged to tie their premature babies to their stomachs, as opposed to carrying them on their backs, as the "skin-to-skin contact keeps the infants' body temperature more stable, a key to survival, and they can nurse at will, promoting weight gain."
In the United States, however, Brown writes, the "increase in the number of older women having babies and reproductive techniques that make multiple gestations more likely are probably contributing to the trend. Black women also have a 50 percent higher rate of preterm delivery than white women," though Neergaard notes that "scientists don't even know all the triggers for preterm birth or how to stop early labor once it starts." In any case, the shocking numbers gathered by the WHO call for a better understanding of premature births, the factors that lead to them, and what can be done to ensure a safer, healthier pregnancy and delivery for both mothers and babies in the future.
13 Million Premature Births Worldwide, 1 Million Deaths [LATimes]
Report: 13 Million Babies Worldwide Born Premature [AP]
Study Finds 1 In 10 Babies Born Prematurely [WashingtonPost]