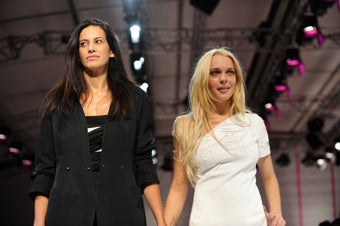 This morning, we took a look at Lindsay Lohan's first collection as Artistic Director of Emmanuel Ungaro. Since then, the critics have come out swinging, calling the collection everything from "misguided" to "cheesy and dated."
Women's Wear Daily had perhaps the harshest reaction to Lohan's foray into fashion, advising her to "get serious about reviving the acting career," and though some critics agree with this assessment, other critics found a few bright spots to celebrate.
When Lohan came out for a runway bow, her eyes were full of tears. And it's easy to see why. After all the hullabaloo over her appointment a month ago, with some fashion insiders suggesting it was an insult to anyone who had ever really worked in design, it had to have been the walk of shame to end all.
Expectations going into the show were low. Still, the collection was not the utter disaster that many had - almost gleefully - predicted. It was chock-full of more of the ultra-mini party girl dresses that have flooded Paris' catwalks this season, but it also had some nice, wearable suits that harkened back to Ungaro's heyday in the 1980s.
No one ever said fashion design is brain surgery. It's a different discipline altogether. But it is indeed a discipline and a commercial art, a fact variously muted and underscored by the celebrity infiltration of the last decade. And like brain surgery - yes, like brain surgery and all disciplines at which people work for years to develop proficiency - it has its rare geniuses and capable practitioners, all of whom must possess talent, skill and dedication. Being a young, pretty, controversial woman who looks good in clothes and photo ops just isn't enough.
Emanuel Ungaro was a couture king of drape and shape. When a swathe of white dress was covered with a white fur stole, there was some attempt to move from teen night out to a couture elegance. Yet will this collection of hearts but with no soul be enough to entice young women who could probably find these looks anywhere?
The collection she collaborated on with the Spanish designer, Estrella Archs, was hardly an unqualified success. How could it be when the pair, chiefly Archs, had only three weeks to pull it together? Ungaro himself, who founded his house in 1965, must be horrified at the arrogance of even thinking it could be done. He would have spent that time on a single piece. The best that can be said is that they tried.
At Ungaro, Mayhem Erupts Over Lindsay Lohan [ABCNews]
Paris Fashion Week: Lindsay Lohan's First Emmanuel Ungaro Collection Is A Walk Of Shame [LATimes]
Hearts But No Soul [NYTimes]
Paris Fashion Week: Ungaro Spring/Summer 2010 [The Telegraph]
Earlier: Lindsay Lohan Makes Her Debut As Ungaro's Artistic Director At Paris Fashion Week