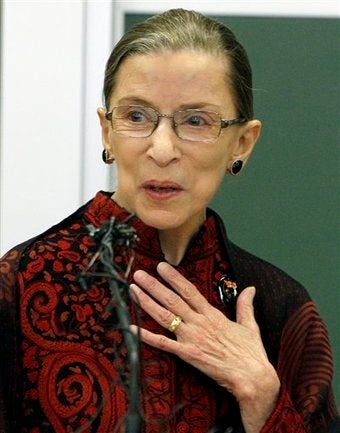 Last night, Supreme Court Justice Ruth Bader Ginsburg, 76, fell ill in her chambers after receiving iron deficiency treatment earlier in the day. Her anemia is related to her recent pancreatic cancer surgery, and she was hospitalized as a precaution.
The Supreme Court released a statement saying Ginsburg was taken to Washington Hospital Center at 7:45 p.m. after she "developed lightheadedness and fatigue" while working, according to the Associated Press. She had received an iron sucrose infusion earlier in the day to treat an iron deficiency. Doctors found she had slightly low blood pressure, which sometimes occurs after the treatment, and decided to keep her overnight.
After an examination in July doctors determined that she was in good health, but had "a low red blood cell count caused by deficiency of iron," which is a common side effect of chemotherapy for pancreatic cancer. On February 5, a small malignant growth was removed from Ginsburg's pancreas along with her spleen, but doctors found the cancer hadn't spread.
Ginsburg hasn't missed a day of work since the operation and has said she wants to match the tenure of Justice Louis Brandeis, who served for more than two decades and retired at the age of 82.
Justice Ginsburg Hospitalized; Became Ill At Work [Associated Press]