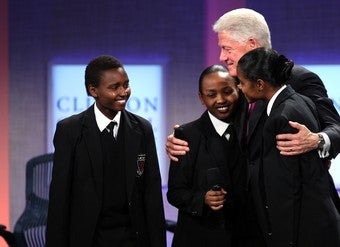 Yesterday the Clinton Global Initiative hosted a panel on "Investing in Women and Children," and panelists spoke movingly about the need for more funding for female empowerment. But for big business, are women and girls another passing fad?
Edna Adan, founder of a hospital in Somalia, laid out the inequalities women face in her country. She said Somalian women were dying in childbirth "because nobody cares... [People think] she's dying because she was meant to die. She was not meant to die. She could be safe." She added, "the decision of whether she has treatment must be left to the woman. Often it's a husband or a brother or a father who decides whether she will be taken to the hospital or not." Zainab Salbi of the nonprofit Women for Women International told listeners that oppression of women isn't just a third-world problem, and that one in four American women suffers from domestic violence. "It is really a global issue," she said. She also argued that "we can't actually get into environmental issues or climate change or ending poverty or wars if we don't invest seriously in women."
It's a common statement these days. Nicholas Kristof and Sheryl WuDunn are giving issues affecting women and girls lots of exposure, and arguing that resolving these issues will actually reduce poverty and violence. And panelist (and Goldman Sachs CEO) Lloyd Blankfein's statement that "investing in women is investing in families" is no longer controversial. But does that mean the corporate world really cares about women and girls?
Panelist Rex Tillerson, chairman and CEO of ExxonMobil, said,
Philosophically, we are committed because it's critical to our own sustainability in the countries in which we operate. A large part of our activities today and in the future are in less-developed parts of the world. So our longer term success is built around the ability to have a productive work force, have communities that are stable. And it's not just financial commitment, but human-resource commitment. [...] funding is not the issue. Not necessarily.
But according to Zainab Salbi, funding is the issue, because women still get only one cent of every development dollar spent around the world. And even those who agree that money is necessary may not care so much about helping women and girls as an end in itself. Jos at Feministing writes, "for the businessmen on the panel 'empowering' women seemed to be more about using them as the person that funds go through." And Blankfein called investing in women "a recruiting tool and a retention tool" for Goldman Sachs.
Helping women and girls seems to be the method du jour both for reducing global poverty and for looking like a socially responsible business. Insofar as this actually leads to the improvement of female lives around the world — and there's evidence that microfinance efforts, at least, do — this is a good thing. And if helping women also results in helping families and societies, that's good too. But Tillerson's lip-service to women's issues and Blankfein's use of them as a recruiting tool are troubling because they suggest that big business leaders think supporting women and girls is the hip thing to do right now. This hipness could lead to real change, but it could also lead to high-profile, low-impact efforts that don't do much good. Environmentalism is in a similar state right now — it's cool to be photographed wearing "green" clothing, but we need a lot more than Cameron Diaz in an organic shirt to stop climate change. And we need more than an oil exec talking about "human-resource commitments" to stop women dying in childbirth. Let's hope we get it.
Global Power Gals [The Daily Beast]
Clinton Global Initiative: Investing In Girls And Women [Feministing]