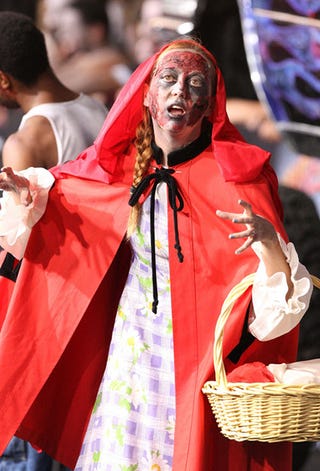 Little Dead Riding-Hood says: The Zombieland L.A. premiere was a bloody, undead massacre. Oh, and then there were the celebrity zombies.
Emma Stone looks delightfully elegant; the blood-red adds the right touch of gore.



Amber Heard skews a touch Judy Jetson - but virginal white is compulsory in a horror ingenue.



I want some princess pun here, but keep coming back to "Snow White and Rose Dead" which doesn't even reference a first-tier fairy tale! Your thoughts?



Rosie Perez never sacrifices comfort for elegance.



Zombie Abe says: a brain divided cannot stand.



Susie Castillo's getup would be darling if her shorts weren't pulling - but we've all been there.



A getup like Lorena Torres' can only succeed if it's completely sleek. I wouldn't say this is a roaring success.



Zom queen?



Samaire Armstrong looks easy, breezy, cute. And dig the hat! Even if it's inadvertent!



Bai Ling is absolutely right: a zombie premiere is exactly the place for white tie-level gowns.


Getty" />