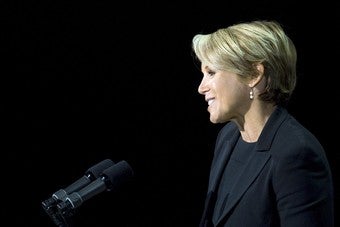 Despite reports last year that she would leave the CBS Evening News this year, Katie Couric isn't going anywhere — but she is getting a new gig with Glamour.
Though Couric hasn't been able to pull her newscast out of third place, the reports of her upcoming departure from CBS may have been, as she jokes, "greatly exaggerated." Back in April 2007, The Philadelphia Inquirer's Gail Shister wrote, "CBS executives deny it, but there's a growing feeling within the network that Katie Couric is an expensive, unfixable mistake." She also said Couric would probably leave her anchor chair early, perhaps after the 2008 elections. But Couric's still around, and although ratings are disappointing, she says she's staying until her contract runs out in 2011.
Brian Stelter of the Times says Couric is pulling down "some of the lowest ratings in the newscast's history" — 5-6 million viewers a night, compared to NBC's 8 million. But rather than a "mistake," CBS may now view Couric as a star who has hit her stride. Her election coverage, including her famous interviews of Sarah Palin, helped make up for a rocky start, and journalism professor Paul Janensch says, "The program seems settled and Couric seems confident. As a result, the questions have subsided, and reviews of her performance are far more positive." Her executive producer Rick Kaplan concurs, saying, "There's a growing admiration for our anchor and respect for our broadcast, and that is worth a lot. Until the ratings catch up with our expectations, that really goes a long way toward making it O.K."
But what Couric really wants to do is interview. She said she originally signed on for a more interview-focused newscast at CBS. When viewers didn't like the new format, she was forced to look for other avenues. One of these is apparently Glamour, where she'll be doing a monthly interview column starting in December. Her first subject is Michelle Obama. As fun as it is to hear more about Michelle, we're betting the Glamour column will be pretty soft. Couric has been affiliated with magazine's Women of the Year program, and it seems probable that her column will focus more on the achievements of prominent women than on particularly critical journalism.
Her new web series, @katiecouric, may be a different story. According to CBS, "The webcasts will feature Katie's candid and incisive one-on-one interviews with high-profile guests ranging from politicians and celebrities to business titans and other top newsmakers." Coming up Tuesday night: Glenn Beck. Maybe Couric will give him the Palin treatment.
Couric says she doesn't know what she'll do when her CBS Evening News contract expires, but these new ventures may offer a clue. The failure of her efforts to revamp her newscast (the Times mentions her unpopular "Hi everyone" greeting) may say less about her and more about evening news viewers — they like what they know. But the days when lots of people want, as Joshua Alston wrote, "to have the day's stories read to them in a grave voice," are probably numbered. The big get, a celebrity interviewer sparring with a celebrity interviewee, may be changing form — I'm sure I'm not the only one who first saw Couric's Palin interviews on YouTube. But Couric, in producing her new interview show for the Web, seems to understand this. She understands, too, that one of her greatest strengths is talking directly to people — and she'll likely continue to do this regardless of the medium.
Doubts Fade And Couric Is Energized [NYT]
Memo Pad: Duty Calls... Michelle Obama In Glamour... Across The Twitter-Verse [Women's Wear Daily]
Katie Couric Debuts New Web Show [CBS]