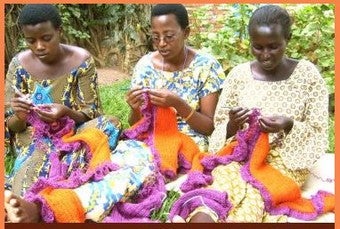 Fashion magazines may be hurting, but Amber Chand's business is booming. She sells handicrafts made by women in conflict-ridden areas of the world, and despite the recession, she's doing very well.
Chand, who now lives in Massachusetts, fled Uganda during the dictatorship of Idi Amin. For her online business, The Amber Chand Global Gift Collection, she seeks out some of the women who need economic opportunity the most. She explains her business model to NPR's Michelle Martin thus:
When I hear about a war, or a major conflict happening in any part of the world, I find that I want I swoop in and then identify a group of talented, skilled artisan women who live there and who are clearly going to have to rebuild their lives in the shadow of either war, or genocide or civil strife. So in a sense I look to see where the hotspots are on the planet.
She sells evening bags embroidered by deaf women in Gaza, and will soon introduce scarves knitted by inmates of a women's prison in Bolivia. And she found that last holiday season, despite the economic downturn, her business grew 22%. Explaining the increase, she says,
People during a downturn start feeling extremely conscious of how they spend their money. And your money is your vote, your dollar is a political statement of where you're making your choices, so for people coming to the collection, they were deciding to buy a beautiful candle, or a beautiful basket or necklace from the collection because they knew it directly impacted the life of a woman and her family in a region of the world that we would consider extremely vulnerable.
Chand tells Martin that many retailers who work by fair trade principles are experiencing such an upswing. If it really is true across the board, it's inspiring news — people might be less willing to buy expensive shit in a bad economy, but maybe they're more willing to put their money toward a good cause. The recession may be causing a drop in charitable donations, but as Chand points out, her business isn't a charity. She says,
I believe that when people buy from the collection, they're investing. They're exchanging money, and this money is actually impacting these women.
Some have speculated that shrinking corporate coffers will necessitate more creative forms of philanthropy, and perhaps The Amber Chand Global Gift Collection is a more creative form of business. Buying one handbag isn't going to save the world, but supporting deaf artisans in Gaza is a better way to spend money than, say, buying gold-dipped furs. And now that 24k mink isn't so accessible anymore, maybe more people will agree.
Image via amberchand.com.
Refugee-Turned-Entrepreneur Uplifts Women Abroad [NPR]
Amber Chand Global Gift Collection [Official Site]