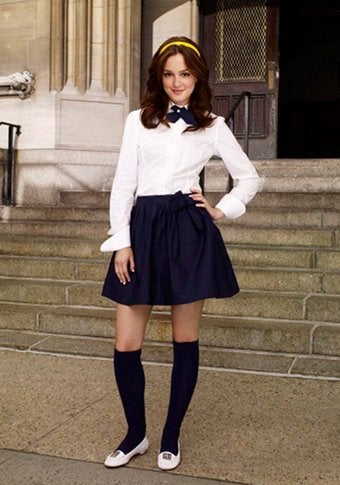 "It's the most important day. You want to make a good impression." So says one 12-year-old. She is so right.
That young lady plans to start 7th Grade in "jeans and a white embroidered shirt from Abercrombie & Fitch." Adds the Washington Post,
Starting middle school is a turning point in the lives of many girls. In addition to the thrill of having their first lockers, they quickly transition from allowing their moms to buy them "cute coordinated outfits" at department chains to doing their own shopping at a handful of stores their friends have deemed cool.
Or not. I remember clearly the shame of starting Middle School in Gap Kids, my growth spurt (such as it was) still three years away. Other girls arrived, sleek and glamorous in black stovepipe pants, or effortless in frayed flares and Abercrombie button-downs.
But the thrill of "back-to-school" clothes never dies. Sure, maybe you've lost the chance to impress everyone with new height or a new guise, but the sense of renewal is eternal. Fall is the sartorial New Year, and not just in the High Holy Days sense. There is, always, a sense of opportunity and reinvention. In the past, it's when I've decided to spend the year based on Sylvia Beach, in T-straps and cardigans; or, later, "early-80's Harlequin Romance heroine pre-makeover." This year I'm basing my look on Angela Lansbury in Bedknobs and Broomsticks. Even if working from home doesn't exactly justify a sharp new wardrobe, I can't resist the lure of at least one piece of corduroy or plaid.
"When people think of Kristina Batal, I want them to think, 'Oh, she's someone you can count on. She has a great fashion sense. She's a good friend,' " said Kristina, 12, who is excited — nervous-excited — about starting seventh grade at Robert Frost Middle School in Fairfax on Tuesday.
Of course, Kristina Batal will learn, one day, that the clothes aren't magic. That they should be for fun and self-expression rather than disguise and talisman. And that they'll never have the power they seem to right now. That if you show up in an ill-fitting flannel dress and feel conspicuously awful and babyish, you can still grow into a confident, happy woman who doesn't feel embarrassed when she walks into a room of her peers. But that there are always fresh starts - and really awesome cardigans.
Flip-Flop Fashionistas Find Their First-Day Way [Washington Post]