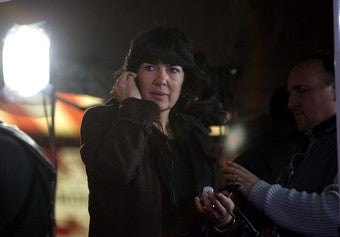 Diane Sawyer isn't the only TV newswoman getting her own show — Christiane Amanpour is now slated to host a talk show for CNN starting this month.
On "Amanpour," the titular host will talk to political and cultural leaders for a half hour, several times a week. The show begins Sunday, September 27 at 2 p.m. EST.
"The job of evening news anchor is one of the last great solo gigs in broadcast television, along with that of talk show host," says the Observer's Felix Gillette. Diane Sawyer's got the first — and now Christiane Amanpour has the second. Maybe TV news really is turning into a "pink collar ghetto."
Key to both these jobs, in Gillette's estimation, is the word "solo." The right to fill up the TV screen all by themselves is something Peter Jennings and Tom Brokaw took for granted. When Sawyer's agent suggested her as a co-anchor for NBC or ABC news, Jennings said he didn't "go through all the crap" in his career "in order to divide up 22 minutes." Brokaw simply said, "No way. If that happens, I leave." Meanwhile, Sawyer has always worked with others, from "a pack of alpha newsmen" to Barbara Walters. Says Gillette, "No one should appreciate the autonomy of a solo anchor job more than Ms. Sawyer."
Amanpour's appointment isn't as groundbreaking as Sawyer's — plenty of women have hosted talk shows before. But her show will presumably be far from fluffy, showing that news networks are more ready than ever to let women tackle the serious issues of the day — and to do it by themselves. In the coming years, TV news might be one of the few places where women are actually praised for being alone.
Amanpour To Host CNN Talk Show [Variety]
She's Headed To Prime Time, And She's Solo [NY Observer]