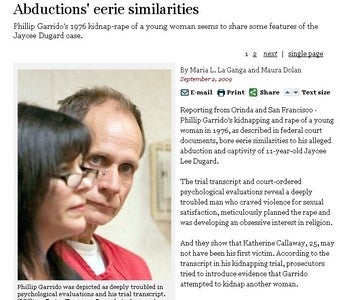 News networks are reportedly mulling a new pay model for online news, but if news means stories about kidnapper Phillip Garrido, then Simon Dumenco of Advertising Age doesn't think it's worth our money.
Dumenco points to Rupert Murdoch and Steven Brill as voices calling for an end to free news on the Internet. But Dumenco is concerned that "a lot of news — possibly most news — has little real value to the average consumer." His prime example: Phillip Garrido's kidnapping of Jaycee Lee Dugard. Dumenco writes,
The Garrido story has essentially zero value in my life. In fact, I'm frustrated by how compelling it is, how much time I've already spent reading about the story (mostly on the web), because there's absolutely nothing to be gained from it. (I might actually be willing to pay to never have to hear Garrido's name again.) Garrido is obviously something of a sui generis monster, so there are no object lessons here, it's not a cautionary tale, and there are likely few adjustments to be made to, say, the California parole system (Garrido was on parole for an old crime). We simply flock to this story, almost compulsively, like the proverbial car accident. Not because it's informative or edifying, but because, well, we can't look away. It's tragedy porn.
First of all, the idea that Garrido is one-of-a-kind, "so there are no object lessons here," is a bit of wishful thinking. He's hardly the first person to kidnap a child (as comparisons to the also-highly-publicized Elizabeth Smart case attest). He wasn't even the only sex offender in his neighborhood. His story has implications not just for the "California parole system" and the Contra Costa County Sheriff's Department (a country district supervisor has said, "I feel confident the sheriff will use this as an example of how to do things better"), but also for how we deal with sex offenders and treat people with delusions. And as Gavin de Becker implies in The Gift of Fear, knowing how criminals operate can help protect ourselves and others.
Of course, this doesn't mean we necessarily need to hear from Jaycee Dugard's aunt — and certainly, news networks are sometimes guilty of exploiting tragedy to boost their bottom line. But Dumenco sounds a little bit like the old SNL bit where Al Franken asked "How does this affect me, Al Franken?" That was in part a joke about self-absorption, and it's somewhat self-absorbed to assume that every piece of news has to be personally applicable to you in order to be worthwhile. News is a little bit like science — it's not always possible to tell at the outset what its applications will be. And it's a pretty short journey from "how does this Garrido thing affect me?" to "how do these elections in Afghanistan affect me?" to a damaging disaffection with other people and the world.
There's an interesting conversation to be had about what kind of online news people will actually pay for. Will they shell out for Heidi Montag's latest lameness but not for healthcare reform? Domestic but not international? TV recaps but not book reviews? Will a pay model for online news lead media outlets to be even more sensationalistic than they already are? It's possible. And it's certainly true that Rupert Murdoch of all people isn't above using stories like Garrido's as "porn." But that doesn't mean we shouldn't hear these stories at all, or that the only news that's worth paying for is news with a personal and immediate application.
Image via LA Times.
How Much Would YOU Pay to Read Still More About Sicko Garrido? [Advertising Age]