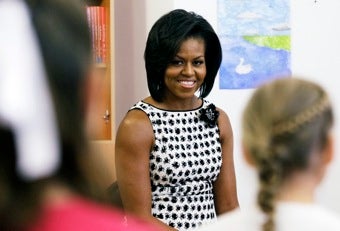 Want to know the "secret" of Michelle Obama's super ripped arms? Cornell McClellan, her trainer since 1997, spills the deets to Women's Health. Be warned, it will shock you.
Michelle Obama has implants! No, not really, she just exercises. But apparently, she exercises a lot. "She's truly committed herself to the importance of health and fitness," says McClellan. Her typical workout is an "intense routine of cardio workouts and weight training," followed by an "arm-shaping superset" of tricep pushdowns and hammer curls (I didn't know what either of these things were, but it turns out they are standard moves that even the most sporadic of gym-goers has seen before).
Obama's arms are back in the spotlight due to a recent series of interviews by the First Lady and her husband on health care and personal fitness and nutrition habits. President Obama was interviewed by Men's Health, and appears on the cover of the upcoming issue. Inside, Obama discusses his workout: six days a week, two days of cardio and four of weightlifting. "My blood pressure is pretty low, and I tend to be a healthy eater," he said in the interview. "So I probably could get away with cutting (my workouts) back a little bit. The main reason I do it is just to clear my head and relieve me of stress."
His wife spoke with both Women's Health and the new magazine, Children's Health about her efforts to keep the First Family healthy. She says she has made some small changes to her family's diet, like eliminating processed foods, eating more fresh fruits and vegetables, and teaching her daughters to read food labels.
So there you have it. The Obama family eats healthily and exercises regularly. Still curious? The full interviews, in all three magazines, will hit newsstands on September 15th.
Trainer Spills Secrets Of Michelle Obama's Arms [Traverse City Record-Eagle]