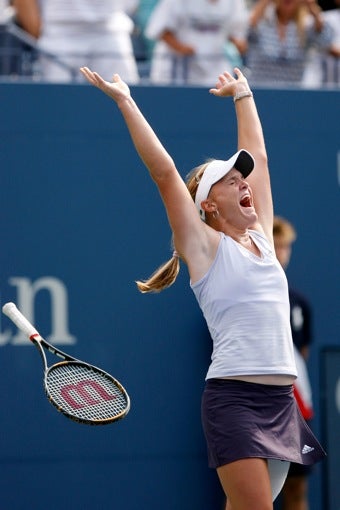 The big story out of the U.S. Open this weekend wasn't the triumphs of Roger Federer, but the sudden ascension of 17-year-old Melanie Oudin, who has become the youngest American since Serena Williams to move into the quarterfinals.
A year ago, Oudin was ranked 221st and lost in the first round at the U.S. Open. Until this June, when she bested former No. 1 Jelena Jankovic at Wimbledon, Oudin had never won a Grand Slam match. But this past Monday, Oudin beat 13th-seeded Nadia Petrova, after knocking out Maria Sharapova (29) and Elena Dementieva (4), thus winning herself a slot in the quarterfinals.
Oudin has been hailed as the "Cinderella story" of the tennis, America's sweetheart, and the "darling" of the U.S. Open. As Danielle Friedman notes for the Daily Beast, Oudin is receiving so much attention partially because of her perky blonde ponytail and pink sneakers stamped with the word "Believe:"
For American women's tennis, Oudin's arrival has been a long time coming. Not since the 1970s, when Chris Evert rose to the top of the pro-tennis scene, has this country seen such a girl-next-door-style sweetheart in the sport, said Michelle Beadle. "From Day 1, I've never heard the Williams sisters referred to as sweethearts," she added. While Jennifer Capriati briefly filled that role in the 1990s, she fell from grace after being arrested for shoplifting and marijuana possession.
Beadle, a sportscaster for ESPN, says Oudin's charm stems, at least in part, from her good looks. "She looks like she just scrubbed her face with Noxzema. She's like Reese Witherspoon playing this role in a movie. She looks like a girl whose summer job is to sell clothes at Abercrombie."
But even more important than Oudin's charm is her backstory, which has led many to call her the American "comeback kid." After training for years, Oudin rose from relative obscurity to national fame in a few short days. She first picked up a racket at age seven. She began hitting tennis balls out of a bucket with her grandmother and twin sister, Katherine. At age nine, Melanie and Katherine began working with coach Brian de Villiers, but when she was 12, Melanie decided that she wanted to be home-schooled, so she could focus all her energy on tennis, while Katherine chose to continue in school. As kids, the sisters played each other on a makeshift court, piling up jackets to serve as a net, but neither one of them ever thought they'd end up competing against players like Petrova or Jankovic. "It's not like we were saying, 'Oh, we're going to be there one day,'" Katherine said, in an interview with ESPN. "But Melanie's just always believed in herself. It's amazing."
Although her sister is her biggest cheerleader, Oudin won another fan yesterday: Roger Federer, who said, "She's beaten great players on the way. It's nice for a change that somebody's coming up we haven't heard about before. Many women now are kind of known."
When Oudin defeated Sharapova on Saturday, she sat down on the court and cried in disbelief. But she shed no tears after her win on Monday. "It's kind of hard to explain how I've done it," Oudin told the USA Today. "Today, there were no tears because I believed I can do it. Now I know I do belong here. This is what I want to do. I can compete with these girls no matter who I'm playing. I have a chance against anyone."
While her twin sister celebrated by throwing her racket into the air, Katherine Oudin sobbed with joy and pride. "Right now, I think she'll play Serena in the finals," she said. "We're not going anywhere."

Oudin is set to play against 19-year-old Caroline Wozniacki from Denmark on Wednesday. Wozniacki, ranked No. 9, currently has more wins on tour than anyone this year, but in a stadium that goes wild and blasts "Just 17" after each Oudin win, Wozniacki's suddenly seem not to matter, and she knows it. "Hopefully," Wozniacki said, "someone from the crowd will cheer for me."
Cinderella Story Continues: Oudin Wins Again At U.S. Open [USAToday]
Melanie Oudin Is An Upset Winner Again At U.S. Open [LA Times]
Tennis' New All-American Sweetheart [Daily Beast]
Melanie Oudin The Star In A US Open Full Of Upsets [Sentinel]
US Open: Melanie Oudin Comes From Behind Again [ESPN]