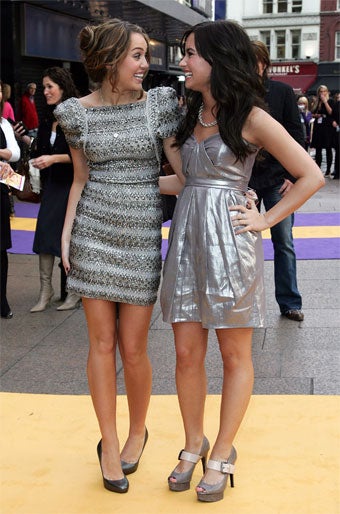 Under the Old Hollywood studio system, PR departments claimed all their stars were dating. Sometimes it feels like Disney's doing the same thing with all their teens!
In a world of silk-garment photo-shoots and leaked camera-phone undie pics, it's nice to know that the majority of Disney's stable of young stars toe the line: indeed, a weird number. While it's natural that people who work together, are isolated from the rest of existence, and see each other every day should become incolved, the numbers still seem suspiciously high. There's Zac and Vanessa, of course; but also the dramatic Miley-Selena-Nick love triangle, and, until recently, Selena's BFF Demi Lovato (who's also been linked to Joe Jonas) and Miley's brother Trace. It's as incestuous as an isolated polygamists' cult - or a high school with no other students.
How do we know? Teen mags, select interviews, tabloids. None of this seemed quite so sinister before the Cyrus Affair and Disney's angry Big-Brother response, but now the mouse behind the curtain seems to loom in a way even youngsters can't ignore. As the Guardian relates, since their (very public) split, Demi and Trace have taken it to the Tweets:

"I know there's such thing as a Mr Right," tweets Demi. "But can there be such thing as a Mr Not Right Now . . . ?" Alas, it is not long before she is musing "Ur So Gay, Katy Perry – such a well written, relatable song. ;) HaHaHaHa."

"Another storybook ending," declares Trace sarcastically, before posting a picture of the girlfriend before Demi.

"I'm sorry, was that supposed to hurt?" responds Demi. "Hmm. Oh well."
Since it seems fairly sure that these kids do approximately nada without the mouse's say-so, one can only assume that, as opposed to these renegade photo shoots, this sort of thing is sanctioned: relatable, G-rated high school romance that can give the thousands of followers a vicarious heartbreak - just as they get a thrill when we just happen to learn that Nick Jonas has bought Miley a wholesome (but aspirationally large!) promise ring.
It's not to say these romances are fake (who could manufacture the pain of Disney-born "Cry Me a River?!") but doubtless...encouraged. One can only assume there are plenty of other relationships - and spats - we're not reading about. When one starts to make the jump to Old Hollywood and their publicity machines, though, you can't help but start to recall lurid stories - of gay stars set up in sham marriages, pregnancies disguised, narratives spun. I'm not saying that's happening today - I don't think it could happen today, not with Perez etc. on the loose - but if anyone could do it, it's Disney, the one place that still trucks in modern fantasy - and the accompanying old-fashioned cynicism.

Even Disney's Magic Can't Protect Its Teen Lovers From Heartbreak [Guardian]