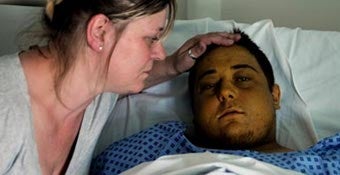 Gary Reinbach was only 22 when he died Monday in England of liver failure. And now people are pointing fingers at his parents for not curbing his alcoholism.
According to the Times, Gary was denied a transplant because he "wasn't able to prove to doctors that he had the drive and determination to stop drinking," of which his mother, Madeline, says "they were playing God, making an example of him." In order to qualify, Gary would have had to live "alcohol-free in the community" for six months; but he didn't have six months, and was in the hospital. Despite public appeals by Madeline and his doctors that the rules be waived and Gary - by virtue of his extreme youth, and physical inability to meet this requirement - get a shot at a transplant, he died before they bore fruit. This angers some who point to the fact that despite this official sanctimony, the famously hard-drinking soccer star George Best was granted a transplant (which echoes a similar outcry when alcoholic Mickey Mantle received a new liver in short order.) Donation is especially fraught in the UK because organs are in short supply - an artificial liver didn't work - and short of enacting a Never Let Me Go scenario, this seems unlikely to change without significant scientific progress.
By any standard, Gary drank a lot: by his father's count, three bottles of vodka a day, then lager; doctors say his was one of the most advanced cases of cirrhosis they'd ever seen in a patient his age. Madeline traces her son's problems to his parent's divorce, when he was forced to give up the martial arts he loved. Introverted and angry, he started drinking at 13, and serious behavior problems followed. His mother's words to the Daily Mail (who seemed to be waiting ghoulishly outside his hospital room) are the sad refrain of many struggling single moms:

No, I wasn't there when they came home from school, but that was because I was working. What was I supposed to do? I needed to keep a roof over our heads. They needed to eat. I guess I could have sat around sponging off the state, but that's never been me...It was always a treadmill, I had no money. State help? You must be joking. I had to work then come home, cook, clean, run after three boys. And do you know how much boys eat? It was hard. I could only do it if I was in bed by 10pm, so I was most nights. And my son Gary? Well, he wasn't in himself by that time mostly. He fended for himself a lot.'
His father says, "To be honest, this is drug country. We were more worried about heroin. Alcohol? It's bad, but it's not that bad. When Madeline would say he'd gone off on one again, I thought it was just a matter of time till he calmed down. Boys are boys; they drink a bottle of cider behind the bike sheds. I thought it was nothing more."
It was; soon the teen needed a drink to get out of bed. Afraid of angering or provoking him, his mother didn't try, after awhile, to curb it, even after he was expelled from school. His father seems to have been basically MIA; his two younger brothers say he reacted to their interventions with abuse. By the time he saw a doctor, he was jaundiced, his liver was shot and his only chance was a transplant. His mother says this was a wake-up call, that he talked about starting college and changing his ways. "'People say how could he not have known, but he was a child. Like so many other youngsters who drink, he never understood the consequences."
On the internet, plenty of strangers are blaming the parents, charging them with negligence - with his mother, not surprisingly, coming in for the lion's share of the blame. Anyone who has been a single parent or known an alcoholic knows it's far from that simple - and the fact that Gary's two brothers seem stable and well should spike some people's guns. "Should" something have been done sooner? Yes - but by the time Gary died, he was an adult - and clearly Gary wasn't the only one in denial about the consequences. Those who feel an alcoholic shouldn't get a liver over someone with a more "organic" illness? Well, he didn't: surely that should seem like justice enough at a time when his parents are surely already wracked with guilt and will be for the rest of their lives. As even the Daily Mail points out, this was also a failure of the system: as much schools who didn't want to deal with a troublemaker as parents who turned a blind eye to what was obviously troubled and dangerous behavior. What is at fault as much as anything, of course, is an institutionalized drinking culture that's increasingly out of control: according to the Times, the last five years have seen a 27% increase in alcohol-related hospitalizations in young people, and binge-drinking amongst young women has seen a particularly sharp rise. Yes, the end of early last-calls may help curb synchronized 11-pm vomiting, but any young person who's grown up with binge drinking as the primary means of socializing isn't going to suddenly start worrying about the effect on his body. If Gary Reinbach's death can lead to a serious awareness of this issue, well, that would be great. As to transplants: in a perfect world, there won't be many more of his age in the same position, but it may be a reality that will require consideration and compassion. Whatever their mistakes, his family should have ours now.

Alcoholic Gary Reinbach dead at 22 after transplant refused [TimesUK]
My Alcoholic Boy, Facing Death At 22 [Times UK]
So How Did This Bright-Eyed Little Boy Come To Die Of Drink At 22? Read His Mother's Story And Decide [Daily Mail]
Drinking In The UK [JFR]