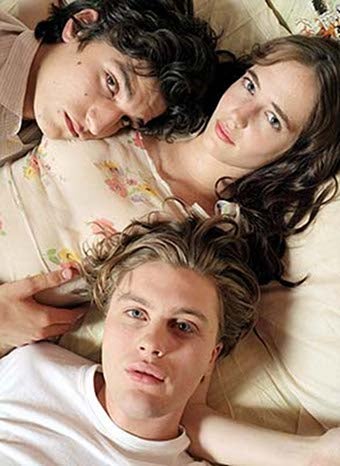 "From personal experience I can honestly say that, crazy as it sounds, the ménage à trois might be a solution to the problems of contemporary relationships." It doesn't sound crazy, Ewan Morrison: dudes have been trying this line for decades!
In an excerpt from his "memoir," Ménage, the author, a naive 22, "stumbles into" an arrangement with his bohemian landlords. He's an artist; she was his muse, he insults her by calling her "bourgeois"; you get the picture. Ewan and the discontented wife start an affair and, yup, it perks up the marriage!

[The husband] reported one day that he and "the bitch" had started having sex again after a period of many stale years. Their fights did not abate but now led to furious lovemaking. His smile secretly thanked me.
This is not, mind you, anything so above-board as "three in a bed." Rather, it's one partner taking a lover. He cites various successful (?) such menages: Henry Miller and Neal Casidy aren't really my ideal of stability - or feminist enlightenment - but then color me bourgeois. The trick, the author explains, is that everything has to be secret.

No, for a mènage to flourish, everything must remain unsaid, there must be secrets and deceptions, all conflicts must be kept alive, inflamed, eroticised. Flying in the face of our modern values, it is not self-expression but the constant suppression of truth that is empowering.
Open polyamory this is not: it's old-fashioned cheating teamed with classic male rationalization. I shudder to think how many guys like to imagine spouses and partners are giving unspoken permission with "secret smiles," and if it sounds like I speak from bitter experience, I do. He acknowledges that this sort of secret liberation is not for everyone:

The ménage is certainly not for everyone, its demands are taxing and there are victims. Many now claim that the affairs of Sartre and De Beauvoir were exploitative, that their "third parties" were abused. Their lovers were certainly not treated as equals (ironic, as they were both Gauchiste radicals). To the modern mind, which advocates equality, fairness, and the avoidance of all conflict, this must seem utterly undemocratic - a tyranny of the passions...Nonetheless, one must look at the many artists and radicals who were involved in ménages and acknowledge the power of the artworks and concepts that have been unleashed from living in such a way.
It should be noted that the author mentions at the end that he's never managed to succeed at "a monogamous union." Fancy that. Maybe hid girlfriends didn't understand that secret affairs, rather than trust and communication, are the way to stability.
The Magic Of A Ménage A Trois [TimesUK]