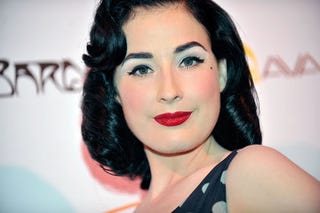 Dita Von Teese is the new face of Cointreau - her ad on their site is totally stylish! - and last night she perfomed and introduced the 'Cointreau Teese' at Hollywood's Avalon for Jewel, Margaret Cho, Solange Knowles, and...Perez Hilton?
When Dita von Teese is in full deco mode - well, there's simply no arguing! She's Nora Charles fab.



Audrey Kitching is, apparently, a "Model, Hairdresser and 'Scenequeen'" and if her goal was attention, her confectionary coif is achieving it!



Margaret Cho manages to look adorable in the face of considerable sartorial opposition - including a jacket that looks like it was borrowed from a member of the original Princeton a cappella group, "the Tiger Tones," whom I once saw perform "Goodbye My Coney Island Baby" at a summer program.



Mayte Garcia is stunning, I adore the shape of this skirt and the "Think Pink!" esprit of the whole shebang. But there's something oddly peasant-blouse-y about the bodice, and I'd love to see a different shoe.



Jewel does realize she's standing next to Perez Hilton, right? Or does she just think he's a dude with a love of Cross Colors? Either way, love the fixed deer-in-headlights smile.



Relief! What say you about Jewel's cross-cultural melange?



Solange Knowles: My Man Godfrey on top, Studio 54 on the bottom!



Jodi Lynn O' Keefe's getup may be sweet, but she's not messing around! Backing...away...slowly.



This is Dita's original cocktail, the "Cointreau Teese:
4 cl (1 1/2oz) Cointreau
2 cl (3/4oz) Apple juice
1,5 cl (1/2oz) Monin violet syrup
1,5 cl (1/2oz) Fresh lemon juice
Frost ginger around the rim of the glass


[Images via Getty]